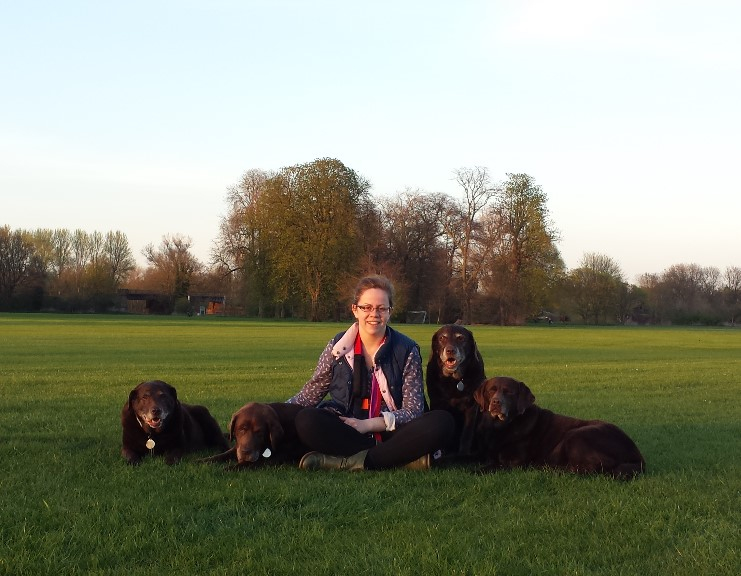 Hello I'm Linzi, i'm pictured here with my four very special Labradors. Lucy is 13 years young, i've been lucky enough to share these years with her since she was 8 weeks old. I adopted Zoe, Tess & Kayla after they were rescued from cruel puppy farms. With care, love, time and patience they have developed into the most wonderful dogs and rehabilitating them has been the most wonderful experience.
Lucy my first Labrador came home in 2003, she is a wonderful companion and teacher to me. Together we have taken part in a variety of training and activities from agility to gundog training to dancing to music and much more. My love of dogs has developed from there onto where it is now with me as a fully devoted and experienced dog owner, hydrotherapist, campaigner, dog walker and dog training instructor.
I have decided to turn my love and passion of animals into a new business venture where I can provide quality care for our special friends. I have created The Dog Nose Best.
In 2010 I completed my foundation degree in Animal Behaviour and Welfare, this course covered a variety of species and gave me good knowledge and understanding behind animal behaviour. I have worked as a Canine Hydrotherapist for 8 years and have a Level 3 Certificate in Small Animal Hydrotherapy. During this time as a hydrotherapist I have learnt valuable tools to working with dogs, their owners and their individual needs. Compassion, care, patience are all required to help rehabilitate a dog. I have fantastic memories of aiding dogs to walk again and seeing dogs progress week after week gaining strength and mobility.
My interest in instructing others to train their own dogs started in 2007 when I began assisting at agility classes. I gained valuable knowledge from observing different dogs interacting with their owners, how they were taught pieces of equipment with a view to completing a course and giving advice and guidance. In 2011 I started instructing basic obedience classes, puppy classes and trick classes, helping others to have fun with training their dogs to achieve a great bond between them and to have a happy well balanced dog.
I started dog walking in 2013 walking a wide range of dogs including deaf dogs, problem dogs with human and dog aggression and also balanced sociable dogs.
I have gained vast handling experience with dogs whilst volunteering at a rescue centre in Wales working with mainly traumatized dogs, some cats and a handful of horses. During my first visit in 2008 I brought home a sad soul destroyed dog who I named Zoe my very first rescue dog. She hadn't ever lived in a home environment and was subjected to a life of producing puppies until this was no longer possible. This experience led me to set up my own awareness group , attending events, giving talks and highlighting the issues of puppy farming to the general public as well as attending important dates in parliament.
I volunteer my time to a number of dog rescues to home-check potential new homes and to assess dogs that need rehoming. Although both Lucy and Zoe are retired now they were registered Pets as Therapy dogs and we volunteered our time weekly to visit residential care homes for a number of years.
My whole life I have been surrounded by animals and I have grown to have a special love of dogs. My dogs are my family and I know how important they are to me, which is why I look after them to the best of my ability. There are very few people I trust with the care of my own dogs. So whilst your special friend/s is in my care I will have their welfare as priority.


---